5 Characteristics of a Successful Personal Trainer.
Becoming a Personal Trainer is a great way to earn a living.
People who are passionate about health and fitness opt for this profession.
Many people are not good at studies. Obviously, all are not equal.
We all are different, and we all have different abilities. Indians are very creative and hardworking in all fields. One of the fields is Personal Trainer.
Wages and salaries are competitive, schedules are flexible and people are helped to improve their health and fitness.
That said, though, being a Personal Trainer isn't for everyone. Although each Personal Trainer is different.
Information
The first characteristic of a great trainer is a high level of knowledge about the client with whom he works.
You should know as much as possible what you are teaching.
This includes injury rehabilitation, weight loss, strategies of how to gain weight properly, proper lifting technique, diet, etc.
If you don't know much about a particular topic, you should at least have access to as many resources as possible, in order to learn.
Continuous Learning
The areas of wellness and fitness are always in constant evolution, as new studies are released and new trends take hold.
It is important that the Personal Trainer always stay updated on these changes and adapt their programs so that customers always stay abreast of the news.
For example, mixing traditional weight loss programs with the latest fitness craze is a great way to keep your customers updated.
Positive Motivator
In the past, "negative motivation" could have worked, but today the customer generally wants a more careful approach.
By ensuring that your customer maintains the "focus" on his end goal through positive motivation and encouragement, you can make sure that he works pleasantly and can return again in the future.
Great Personality
As a client, you want to feel comfortable and trust that your coach has your best interest in mind. That's the most important thing for you.
Believe it or not, personal trainers are one of the few people who will see you at your lowest point, during the times when you look the worst and you should feel good about it.
As friends, you must be understanding and ready to listen and commit.
But at the same time, as a coach, you must abide by your rules and not let them loose your routine and training program.
An example of a Fitness
While not a prerequisite for becoming a Personal Trainer, many of the most successful ones are in good physical and mental shape.
By providing a model to your customers and leading a healthy and fit life, you are able to show them that you can do it.
Being in good shape is also more likely to attract new customers.
Adaptable
One of the most important traits that a Personal Trainer must have is the ability to adapt.
It is necessary to be able to modify and adapt the approach to each new customer.
Clients will need to do more research to find the perfect fitness trainer.
It's important to consider everything from what your trainer wears to how they talk.
Everyone has different needs when it comes to fitness and it is essential to take the time and mental attitude to satisfy each unique customer situation.
How long does it take to become a personal trainer?
On average, it takes about 6 hours a week for 3 months of study to become a certified fitness trainer.
But this would be useless if you don't also gather relevant practical experience. So, in addition to studying so many hours a week, it is equally important to gain practical experience twice those hours.
Only then will the age of your certificate increase and you will be able to better relate to what you are studying.
If you are looking for a fitness trainer course in India, you can take a look at the BFY Sports and Fitness Institute.
This is one of the best fitness institutes in India. The syllabus of your courses is designed perfectly. So that you are almost ready for international exams such as ACE Fitness and ACSM.
They not only teach theory but also practicals.
And if you gather the experience from there working in a gym as an intern. Then you can get a job too.
Need more information? I have already written an amazing article on it. Check this out.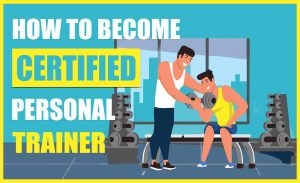 Daily workout gives 5x times working energy.
It's a mission to make India fit by 2025, so keep supporting stayfitindia.in
So that I will get some motivation to give you more helpful tips and ideas to remain fit with less effort.
For more info on Motivation, Health, and Fitness updates, like us on Facebook or follow us on Instagram.
Also, Subscribe to our Newsletter below. To read more latest posts directly go on the categories.
Related articles: Just click on the featured images below.