Six Pack Abs: How long does it take to get abs?
Let's get started!
Everyone wants a six pack! But if you're like most people, you probably don't have one.
And that's okay as I'm here to tell you how to get one in the shortest amount of time!
So stay with me.
The amount of time it will take you to get a six pack depends on a number of factors.
But one of the main factors you should know is …
How much fat will you need to lose to uncover your six pack abs?
And you can calculate it by finding out what your body fat percentage is from a certified fitness assessment specialist.
It is quite simple!
Once you know what that number is, you can roughly calculate how long it will take you to lose belly fat and uncover your abs.
If you're like most people, you're probably above 15-20 percent body fat, which is why you can't currently see your six pack.
You just have a layer of fat covering them.
However, once you start losing body fat, you will slowly begin to uncover your abs and also achieve greater muscle definition throughout your body.
So you should at least aim for 12% body fat or less as this is usually the brand where most people start to discover their six pack abs.
And if you follow a proper nutrition and training program, specific to your needs and goals, you can expect to lose a minimum of about 1-2 pounds (0.450 to 0.900 kg). of body fat each week – on average.
So the closer you are to 12% body fat, the less time it will take for you to start uncovering your abs.
And the HIGHER your body fat percentage, the LONGER it will obviously take you to discover your six pack.
Everything is relative to the end of the day.
The most important thing, however, is to START TODAY!
You can check this article to start working out for six pack abs. It will help you to workout without any gym equipment or machinery. All tried and tested.
Let's seriously find out How long does it take to get Abs?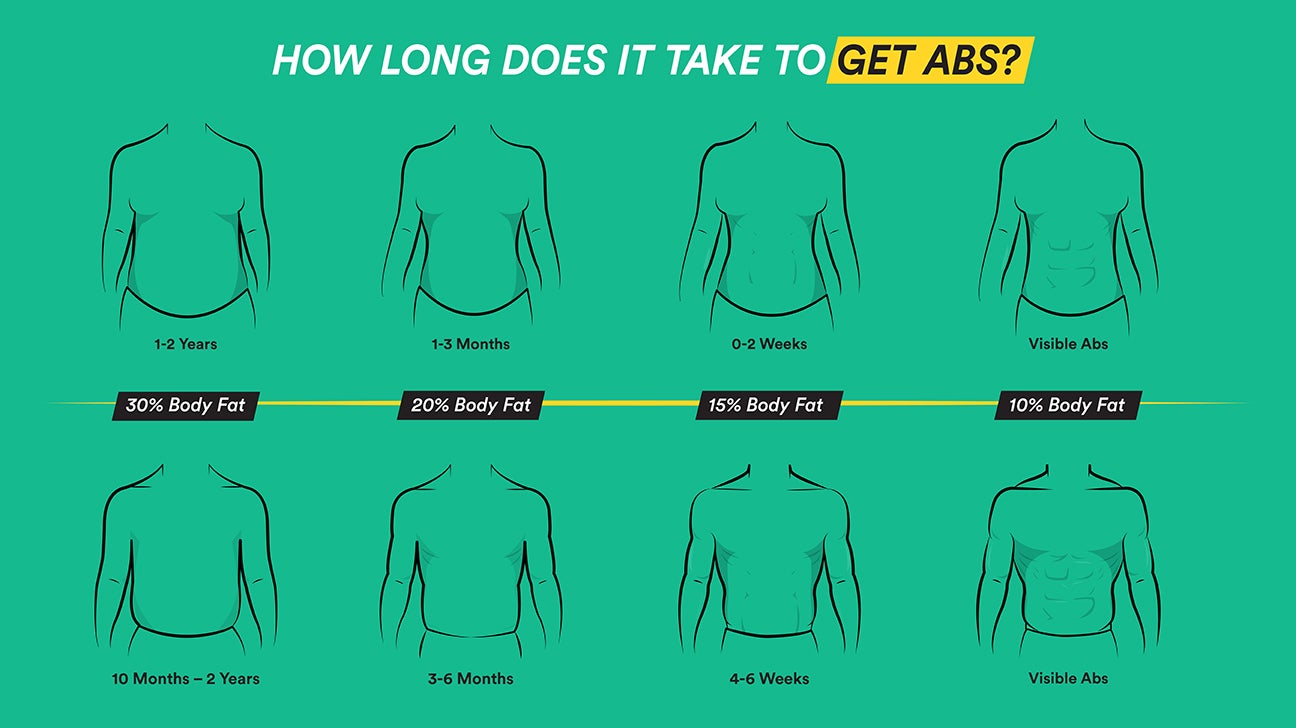 As you can see in the chart above, in reality, how long does it take to get abs? It all depends on YOU. Now stand in front of the mirror and find your body into this chart.
If you find your body structure into this chart then you got your answer I think.
If not read further.
30% or more Body Fat
Men: 10 months to 2 years | Women: 1 to 2 years
At 30 percent body fat, whether male or female, this is considered obese. Nobody sees any muscle definition here. This number also puts you at risk for a number of chronic diseases.
From this starting point, your journey to visible abs is likely to be about 1 to 2 years. Men may be able to shave for a few months and achieve it in 10 months, but 8 to 12 months is a reasonable time to fix your eyes if you have around 30 percent body fat.
Add another year if you have close to 40 percent body fat.
20% Body Fat
Men: 3 to 6 months | Women: 1 to 3 months
If you start with 20 percent body fat, it would take 3-6 months for your abs to start to show. For men, up to 20 percent of body fat is considered healthy, but the proportion of fat in muscle still leans toward the former.
Women, however, are close to the upper body fat percentage range that allows you to reveal your six pack. Women likely have between 1 and 3 months to go, give, or receive. This depends on their nutrition and exercise routine, and the amount of muscle mass they start with.
15% Body Fat
Men: 4 to 6 weeks | Women: Abs lines are little visible
At 15 percent body fat, you are in a very healthy spot. Guys, your muscles are starting to show, you see definition in your arms, legs and now you have a lower ratio of fat to muscle.
At this, men are probably 4 to 6 weeks before their target rate. Women, you have reached your goal and you should see those abs visibly.
Depending on your specific body type, you might see them more or less, but you should definitely see evidence of all your hard work and dedication.
10% Body Fat
Men and Women: Abs fully visible
At 10 percent body fat, those abs should stand out, and with this percentage, men have reached the ideal percentage of abs that can be quickly defined (or already are).
In the case of women, you have entered the range of "essential fats" and you probably cannot stay here without real effort.
Unless you're gearing up for a competition, it's okay to lose weight and allow a few pounds to come back to ensure you don't jeopardize your health for the sake of a visible six-pack.
Check out this article and start losing your weight without exercise!
How long does it take to get abs if your skinny/ you have a flat stomach?
When I started my fitness journey, I was skinny.
First of all, skinny fat is not a body type, but it is a condition where you look skinny with your clothes on and when you take your clothes off, you know you have a layer of fat on your body.
This is because you have low muscle mass and a high percentage of body fat.
The reasons for skinny fat can be poor food choices, insufficient diet, or excessive cardiovascular exercise.
Well, let's not get into the reasoning and keep this article solution-oriented. Most people remain confused about whether we should first gain or lose.
Well, first bulking up and then cutting back is not a bad option, but my take on this is that we are not professional bodybuilders.
Our goal should always be to improve our body composition and this can only be achieved by increasing muscle mass and decreasing the percentage of body fat.
And let me tell you that the more muscle mass you have, the easier it will be to lower your body fat percentage. We should aim to look slim and athletic all year long.
The skinny fat solution comes down to three basic factors. Workout, Nutrition, and Sleep.
Workout
You should focus on weight training and not cardio. Remember that any form of resistance training is very important for building muscle mass.
So I suggest you exercise for 5 days and rest for 2 days.
In all those 5 days you must work on a group of muscles in one day.
Now your workout time should range from 45 minutes to a maximum of 60 minutes. Also, try to lift heavy objects.
Now
When I say heavy, I mean heavy based on your strength. Also, week by week try to gain weight.
On any particular day, you can do 5-6 exercises for one muscle group. Do 3 sets of each exercise. The rep ranges can be 12, 10, and 8.
Now, getting to the cardio. As I said, you shouldn't do too much cardio. I suggest you keep up your cardio workout twice a week.
Also, your cardio workout shouldn't last more than 5-10 minutes.
The best way to do cardiovascular exercise effectively is to sprint. So what you can do is after your weight training session, do 3-5 sprints in a matter of 5-10 minutes.
Trust me, it helps a lot.
Likewise, your abs workout should be short but rigorous. So after the weight training session, you can keep your abs workout for 5-10 minutes.
So that you can structure your training in such a way that in:
Monday- Abs
Tuesday- Sprinting
Wednesday- Abs
Thursday-Abs
Friday- Abs
Trust me the way you spend that 1-hour working out will really decide the speed of your results.
Nutrition/ Diet
Nutrition is the most important factor. Your first step is to find your maintenance calories. Now you should go for a small surplus.
For example, your maintenance calories turn out to be 2,500. So by keeping a lower surplus, I mean you should eat about 2,700 calories per day.
Now
You might run into people who would tell you that you can eat sweets and junk food if you're looking to gain weight.
No.
Please don't go for dirty bulking. Because doing this will only increase your fat and not your muscle. I suggest you eat 4 to 6 times a day.
Keep your meals high in protein, well balanced with complex carbohydrates, healthy fats, vitamins, and minerals.
Now, protein is the most important macronutrient when looking to gain muscle. Keep your protein intake between 1.5 and 2 grams per kg of body weight.
For example, If your weight is 60 kg, be sure to eat between 90 and 120 grams of protein a day.
When it comes to carbohydrates, be sure to switch to complex carbohydrates like whole-wheat roti, brown rice, oatmeal, sweet potato, and other whole grains.
Try to avoid white rice, whole wheat bread, white bread, potatoes, and maida. So eat a clean and balanced diet because it will help you get the fastest results.
Sleep
All you need to do is maintain your sleep duration. Have a deep sleep of 7-8 hours every night.
So friends, follow these tips and if you do, I assure you, you will start to see results in a few months.
Friends, I hope you have found it useful. Well if you did, share it with the one who is working hard but not getting the results.
Summary of How long does it take to get Abs?
Personally, I suggest that you stop counting the days and start a good training and nutrition program.
If you spend a good 6 months following the right plan and, more importantly, sticking to it.
You will be amazed at what you can accomplish.
By consistently taking the right actions each week, you will eventually reach all of your goals, automatically.
Therefore, the amount of time it will take to get a six pack is dependent on you. The following questions might help you.
How BAD do you want it?

How HARD are you willing to work for it?

Are you going to make excuses? Or are you going to take the necessary steps to make this happen and carry it out?
YOU are in control of your destiny, my friend, and the body of your dreams is only a decision away.
GO AND GET YOUR SIX PACK ABS!
If you found this article helpful and would like us to share many more articles like this one, please support stayfitindia.in by subscribing to our newsletter.
So that the latest updates come through every time I post new articles. And let me know if you liked the article by sharing it.
You can also leave a comment if you have any questions or would like to request any future blog post topics that you would like me to publish.
I try to answer everyone, so go ahead and leave a comment.
And as I always like to say…
"A life worth living is a life worth improving!"
Take control of your destiny…
AND GO AND GET SOME ABS NOW!
Daily workout gives 5x times working energy.
It's a mission to make fit India by 2025, so keep supporting stayfitindia.in
I will get some motivation to give you more helpful tips and ideas to remain fit with less effort.
For more info on Motivation, Health, and Fitness updates, like us on Facebook or follow us on Instagram.
Also, Subscribe to our Newsletter below.
Read more related articles just click on the featured images below: