Top 8 Celebrity Fitness Trainers India 2020–
We all know Bollywood and we all love Bollywood stars. Fans always admire them more. We look forward to any updates from our favorite stars. We love to know what these celebrities do in their spare time.
"Kya vo karela khate hain?" (Do they eat bitter gourd?) "Kaccha khaate hain ya pakakar khate hain?" (They eat it raw or vice versa)
We always have these kinds of silly questions on our minds. Early in 2000, it was difficult to get updates but in 2020 it is very easy to connect with our favorite stars.
Social networks rescue their fans via Facebook, Instagram, etc. They can easily follow their stars anytime, anywhere, sitting on the couch, bed, or toilet.
Even the stars are very interested in interacting with our fans. Whatever they do, they post on social media. Be it an image, video, or story on these platforms.
Trend
As trends change, the lifestyle of these celebrities has also changed. "Fitness ka trend isi generation ke liye bana hai" (The fitness trend is only for this generation).
The style of Bollywood movies got affected by these trends. Today everyone loves to see a fit and healthy body on big screens. Girls love to see their stars shirtless. Boys want to look fit and healthy so that they too can attract girls with their perfect bodies.
People always try to imitate our stars and it is natural human behavior. We follow them and we are motivated to make such a perfect body for someone special.
Fitness Journey
We generally don't know How to start our fitness journey?.
Beginners always try to find ways to figure out this fitness formula without any effort failing.
There is a saying called "Half of knowledge is very dangerous".
These celebrities also know very well that if they want to look fit they need a fitness trainer. They don't have time to research their body.
Trainer
These celebrity fitness trainers help them get in shape. Weight loss, muscle gain, Six-pack Abs, etc.
Every human being has a different body style and the physical trainer can read these bodies very well.
They specially design diet and workout plans for famous men and women.
They strictly follow the diet for months and after a lot of exercises, they get in shape.
We all watch them on big screens get surprised ourselves by their action sequences.
Quote
"Shahrukh Khan se lekar Varun Dhawan tak sab k pass hai unka gym trainer"
(From Shahrukh Khan to Varun Dhawan, everyone has their gym trainer)
The following are Top 8 Celebrity Fitness Trainers India 2020:

PRASHANT SAWANT
Sawant has trained the first B-town celeb Shahrukh Khan for film Om Shanti Om. We have seen a charismatic body of Shahrukh in the song Dard-e-Disco.
The song becomes a super-duper hit because of the stunning figure of Shahrukh Khan.
We all remember that the Dard-e-Disco song was watched multiple times only to see his transformed body, and all the credits go to Prashant Sawant.
From Middle-class Maharashtrian boy to one of the best fitness trainers in India.
He trained many leading actors like Ajay Devgn for Singham, Adnan Sami, Abhishek Bachchan, Priyanka Chopra, Alia Bhatt, Amitabh Bachchan.
Currently, he is working with our upcoming stars Varun Dhawan, Sunny Leone & Nushrat Bharucha.
Get trained by Prashant Sawant at Body Sculptor.
SATYAJIT CHAURASIA
Satyajit is the magician behind the sculpting that Aamir Khan achieved for the film Ghajini.
After Kalpana was killed we saw a new avatar of Aamir on big screens. He is now the top 8 Celebrity Fitness Trainers India 2020.
A chocolate boy to handsome hunk. A perfectionist always goes with perfection and where Satyajit enters into his life.
He trained Hrithik Roshan and Saif Ali Khan for big-budget movies.
Get trained by Satyajit Chaurasia at Barbarian Power Gym.


ABBAS ALI
Abbas trained common men and celebrities for over 20 years in the industry.
His motive is "Fat to Fit" he is the founder and creator of his unique gym, Bodyholics. He worked with various Bollywood stars over the years. Shahid Kapoor, Shilpa Shetty, Sonakshi Sinha, Zareen Khan are all got trained by Abbas Ali.
He becomes a personal gym trainer too, can hire him for personal fitness training.
Currently, he is working with Yami Gautam & Shahid Kapoor. Follow Abbas Ali at Bodyholics Gym.


SAMIR JAURA
He is the man behind for some of the biggest transformations in the B town.
Rani Mukerjee for Mardani, Farhan Akhtar for Bhaag Milkha Bhaag, Priyanka Chopra for Mary Kom. Sculpting celebrities in the industry for famous sports biopic films.
Farhan Akhtar needs an athletic body for the film. That's what the script was demanding.
With proper diet plan and workout sessions, he achieved his athletic body and we easily accept him as Milkha Singh, one of the Gems of India.
Samir Jaura helped film Bhaag Milkha Bhaag to look at the very natural and acceptable body of Farhan Akhtar.
He is one of the best workout trainers for the gym.
Follow and get personal training from Samir Jaura contact details on Facebook 



PRADEEP BHATIA
In 2007 Pradeep won the coveted "Mr. Delhi" title in the Bodybuilding Championship and created a sensation.
After completing a rigorous training program at Watson Fitness, Mumbai. Pradeep took on the challenge of running the Barbarian Power Gym.
Pradeep working as a celebrity fitness trainer with Siddharth Malhotra, Anil Kapoor, Baadshah.
Currently working with famous actors like Vineet Singh, Ranbir Kapoor & Diljit Dosanjh
Get trained by Pradeep Bhatia at Elixir Fitness Gym.
YASMIN KARACHIWALA
She is probably the most famous fitness trainer among Bollywood actresses.
Yasmin has trained top celebrities like Bipasha Basu, Deepika Padukone, Alia Bhatt, and Katrina Kaif and has become one of the best trainers in the world.
Her hard work and effort are visible in the sculpted bodies of their clients.
She closely watches your needs and improvements in your body.
Yasmin not only trains them but also offers an individual nutritional diet plan to their clients. She helped almost every leading actress to get in shape perfectly.
Get trained by Yasmin Karachiwala at Yasmin Karachiwala's Body Image.

MANISH ADVILKAR
The trend of bodybuilding in films started in the early 2000's era. In the song, "O Oh Jaane Jaana" Salman Khan revealed his stunning body with ripped jeans on big screens.
Salman Khan is the first actor to build a body.
He is a real bodybuilder in the industry and thanks to his trainer, managed to maintain a solid figure.
Manish is one of the top celebrity fitness trainers in Mumbai.
Currently, Manish Advikar is working with many celebrities and non-celebrity clients. Manish Advilkar trains Prateik Babbar nowadays.
For new updates follow Manish Advilkar on Instagram.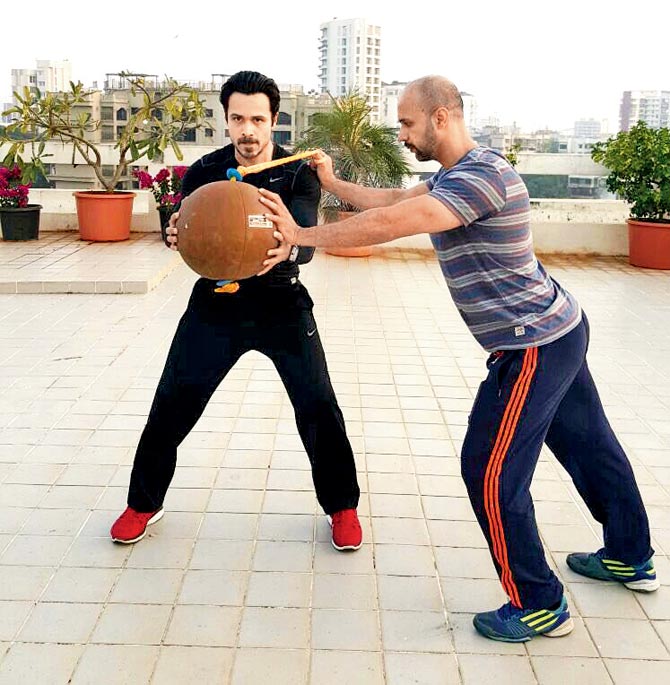 PRAVEEN TOKAS
As a celebrity fitness trainer, in his 18-year career, Praveen has worked extensively as a strength and conditioning coach, yoga expert, and celebrity fitness expert.
He has organized numerous strength and conditioning workshops and conferences in Toronto for companies and educational institutions, including the faculty of the University of Toronto.
He trained top celebrities of Bollywood.
Actors are Emraan Hashmi for the film Azhar, Imran Khan, Prachi Desai, and Rannvijay Singh.
You can also follow Praveen Tokas on Facebook.
Daily workout gives 5x times working energy.
It's a mission to make fit India by 2025. Keep supporting Stayfitindia.in. I will get some motivation to give you more helpful tips and ideas to remain fit.
For more info on Motivation, Health, and Fitness updates, like us on Facebook or follow us on Instagram.
Also read: How to start your fitness journey?  helps you to find your perfect trainer also helped your favorite Bollywood celebrities. Start your career in the fitness industry: How to become a Certified Personal Trainer?
Latest post: Click on the featured image below: