HOW TO BECOME A CERTIFIED PERSONAL TRAINER | WHAT YOU NEED TO KNOW?
How to become a Certified Personal Trainer? Today, on average, people are more attentive than ever to their health and fitness. While "fitness" in the past has often been sacrificed for career and family in order of importance, today, however, many adults are making their bodies a priority.
Gyms have seen a sharp increase in subscriptions sold, and specialized fitness classes like Zumba and CrossFit are incredibly popular.
Even the supplementary and gym equipment sector is experiencing a huge increase in sales of retail stores and some cases, difficulties in finding warehouse stock of some products so that the entire be able to satisfy increasing numbers of customers trying to fit.
This recent fitness craze has also generated a huge demand for certified personal trainers.
Qualified and very well informed professionals to help their clients achieve their fitness goals.
Personal trainers help teach their clients how their body functions, help them with their diet, and create a complete exercise plan.
Often he also assists clients who have been injured or have undergone surgery through rehabilitation.
Step #1
HOW TO BECOME A CERTIFIED PERSONAL TRAINER?
DO YOU HAVE WHAT IT TAKES?
You may think that to be a personal trainer all you need to do is to be in good shape. This is the farthest thing from the truth.
In practice, there is a significant number of personal trainers who have average physical fitness, but who are capable of incredible work with their clients.
There are many factors involved in becoming a certified fitness trainer.
If you are interested in becoming one, then scroll through this checklist and think about what features you currently have.
CERTIFIED PERSONAL TRAINERS ARE:
Strong listeners
They can listen to what their customers want and plan accordingly.
Supportive


Your job is to support your customer, not to bring him/her down.
Encouraging
You can help the customer to go beyond his/her physical and mental boundaries.
Good Teachers


You can explain exercise and diet concepts easily to your customer.
Patients
You can wait for the customer's progress without pushing them before they are ready.
In Health
Enjoy a good physical condition, to take for example towards your customer.
Get organized
You are always prepared to help your customer keep him/her aligned towards his goals.
Personality
One of the most important requirements is to have a great personality that is encouraging and helpful to the customer.
Gone are the days when clients want a personal trainer who yells in their ears and pushes them to collapse.
Today's customers are looking for someone to push them to the limit, but stay positive and encouraging.
It is important that you can satisfy the emotional needs of the clients, as well as dealing only with your body.
Adaptability
Carrying out this profession will end up working with people who have a variety of different goals and skill levels.
It is important that you can tailor your training style to what the client needs.
It's essential to avoid getting caught up in overly rigid schemes and end up treating all clients the same way.
It is necessary to relate to each client as a unique challenge and understand the best way to help them achieve their success.
If you read the exposed features and think they accurately describe you, then you probably can have what it takes to be a successful personal trainer.
But even if you think you don't have any of these characteristics, don't despair, because many of them can be learned over time.
Step #2
HOW TO BECOME CERTIFIED PERSONAL TRAINER ONLINE?
The speed of growth in the fitness industry is creating a significant need for experienced and qualified fitness trainers to help people achieve their goals.
An interesting learning possibility is a possibility of attending courses directly online, which is one of the easiest and fastest ways to obtain certification.
There are several alternatives in the context of online courses and certifications available.
Before choosing one, it's important to do some research and make sure the certification you choose is compatible with the job you want.
The advice is also to verify that the certificate to be issued is recognized and accredited nationally.
If you have a specific gym you want to work at, you should ask them which certification and program we recommend.
Depending on your choice, the online course will normally take between 4 and 10 weeks to complete.
Some examples of the subjects covered can be:
Training cards
Supply
Aerobics
Functional recovery
Pathologies in the gym
Once the entire online course has been completed, the final exam will be taken, which will entitle the issuance of the certificate.
The methods for taking this exam vary from course to course and can be both online and directly on the site.
This is the last step to appear definitively in the world of Personal Training,
Then you can start helping people improve their quality of life!
Some useful resources:-
PERSONAL TRAINER ONLINE COURSES
Step #3
ANALYZE THE STRENGTHS AND WEAKNESSES
The most important thing you can do when you start as a Certified Personal Trainer is to establish an honest and objective balance of what your strengths and weaknesses are currently, both as a person and as a Trainer.
By discovering where strengths reside, you will also be able to better serve your clients.
For Eg: If you work better individually, you could remain rigidly anchored to the types of small private training sessions.
Otherwise, if you love working with large groups of people, taking group lessons will certainly be more satisfying.
HERE ARE SOME EXAMPLES OF QUESTIONS YOU SHOULD ASK YOURSELF:
Do I prefer to work with one person or group of people?
Do I prefer to work outside or inside?
What do you excel at?
Do I prefer to work with athletes or with "normal" people?
What could I improve on?
Do I prefer to work with a calmer setting or do I prefer the slightly more frenetic ones?
Do I prefer to work with younger or older people?
By asking these 7 questions it is possible to get an idea of the type of training you want to obtain and which type of customers to contact.
Qualifications


You have to pass an exam and get a certificate to qualify as a Personal Trainer.
The qualifications required for each certification may vary slightly.
It is best to contact the organization with which you want to become certified, for example, for a complete list of requirements.
Things to learn


Before becoming a certified personal trainer and passing the certification exam, you should become familiar with what teaching will be.
There are several training options available, including seminars, workshops, and online courses.
Taking a look at the various types of courses can help get the first idea of what is expected of you as a personal trainer.
Choosing Certification


When it comes to becoming a certified personal trainer, choosing certification is an extremely important step.
If you choose the wrong certification for the expected specialization, you will end up wasting time and money.
Several organizations have certifications. Always choose nationally accredited and recognized and accepted as high quality.
If you already have a relationship with a gym or fitness club where you would like to work, it is a good idea to talk to them and understand exactly what certification you will need to work there.
Depending on the certification you choose to earn, training and education can take anywhere from 1 to 6 months for qualification. Pay close attention and study hard, these programs are often very condensed.
You have to work hard to understand and remember everything. The final exam is required to become a certified personal trainer. Once approved, the next step is to find a job.
Job search


Having obtained the certification, it is time to find a job. Some may want to start their own business right away, but it's a good idea to gain some experience first and build a customer base first.
Prepare your resume and start contacting local gyms and clubs to see if they are looking for a personal trainer. It may also be helpful to contact other local personal trainers to find out if we have a chance.
Remember, persistence pays off! Once you start, the most important thing is to build your installed customer base with exceptional service and support.
The more satisfied your customers are with your service, the more likely they are to advise you with their acquaintances!
Step #4
GET NEW CUSTOMERS
Once you are certified and hired by a gym or club, you will officially be a personal trainer.
The first thing you should do right now is to find customers.
It can be a difficult task, especially if you are new to the environment. If you're having trouble finding new customers, check out these helpful tips.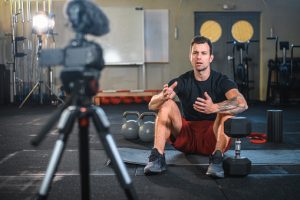 Offer suggestions


One of the easiest ways to gain clients and build a reputation is to bring people together working out in the gym and offer helpful advice.
Gently get a few people on a break in the gym and offer some advice on any exercise they've done.
If they are interested, listen to and appreciate your advice.
They can deepen the conversation and give you your business card.
Most people will appreciate someone who spends part of their time giving them some helpful advice.
Free session


A great way to quickly grow your customer base is to offer a free training session.
This works well for both individual and group sessions.
You can distribute the coupons to your gym and current customers so they can deliver them to their friends and family.
Once they have had a free session, they may be able to turn some of them into paying customers.
Quality work
The best way to acquire new customers is to provide existing customers with the best possible service.
Helping your clients to achieve their goals will make them the best advertisement for your services.
When friends, family, and coworkers see your customers' improvements, they will wonder how they were able to achieve them, and at that point, the customer will refer to you!
Fitness Trends
It is important to keep up with fitness trends.
People like to try new things in this field (eg Pilates, Zumba, etc.).
By offering these services and integrating them with existing programs, you will increase their appeal.
It's a great way to keep current customer service alive as well as attract new customers.
Step #5
CERTIFIED PERSONAL TRAINER SALARY
This is the most interesting segment now. Now you know everything about how to become a personal trainer.
But if you pursue this occupation, you need to know how much money you can make while working in this field.
If you completed your course and ready to train your clients. But we know that clients will not hire newbies. They prefer the most experienced certified personal trainer rather than hiring a fresher with zero experience.
Because nobody wants to get train by a recently passed out guy/ girl.
Don't be upset.
Here what I already recommend is to first get experience at the local gyms in your city.
The benefit of giving service to local gyms is that you will get people from your city, who knows you very well. And whoever knows you very well will easily trust you.
You give free tips to them, correct their postures even they don't ask for it. Engage with them and build a good relationship.
Slowly, what will happen is whatever you will recommend to them they will follow you blindly. And you can simply convert your friends or relatives into your clients.
Believe Me!
It works. I personally use this technique. You give free value to them and they will come to you for sure. But start giving first and all things will follow accordingly.
Country

Experience

Salary

India

1-3 years

 

5-7 years

Rs.15,000/- to Rs.30,000/-

 

Rs.35,000/- to Rs.50.000/-

United States

1-3 years

5-7 years

$5,000 to $15,000/-

 

$35,000to $45,000/-
This table gives you a clear idea about the salary structure of a certified personal trainer.
Get experience from the local gyms, and add into your resume. And also you will add the pictures of your clients whom you trained in the local gyms.
It will become an attractive work profile of yours. Alos it helps you to get a hike in salary in the reputed gyms. Bigger the gyms bigger the salary check you will receive every month.
In India Local gym pays Rs.10,000/- to 15,000/- per month to a certified personal trainer.
And in the reputed gyms, you will get a salary from Rs. 25,000/- to 50,000/-
Where in the United States, salary begins from $5,000/- for a newly passed out certified personal trainer.
Everyone starts from the small and then make it big.
Trust Me.
The fitness industry is booming from the last few years. Once you satisfy your clients, your clients will give you bigger paychecks.
They will recommend you to their friends and relatives. And you will automatically end up making a network of big clients.  So, The earlier the better.
Step #6
KEEPING CUSTOMERS ACQUIRED
Managing clients correctly is often more difficult than looking for them the first time.
The easiest way to increase your customer retention rate is to provide excellent service in every respect, use your best efforts and research in the training programs you are looking for, and remember to be optimistic, positive and motivating.
If the level of customer satisfaction remains high and is constantly guided towards the achievement of its objectives, the loyalty rate can only be positively verified.
Summary of How to become a Certified Personal Trainer.
In final words, whoever is planning to become a certified personal trainer this article is a must-read. I personally recommend enrolling in this field and follow your passion.
Because it's a booming industry now. And very few people choose this field. So wherever there is low competition, it will take less time to get success.
Whoever wants to do it as part-time they can also do it. Also, it will keep you fit all the time.
All the Best.
Daily workout gives 5x times working energy.
It's a mission to make fit India by 2025, so keep supporting stayfitindia.in
So that I will get some motivation to give you more helpful tips and ideas to remain fit with less effort.
For more info on Motivation, Health, and Fitness updates, like us on Facebook or follow us on Instagram. Also, subscribe to our Newsletter below.
Read more related articles just click on the featured images below: