Top 3 Smoothie Recipes for Weight Gain:
It may be hard to believe, but some people need or want to gain weight for certain reasons.
For some, trying to gain weight can be as difficult as trying to lose it. Good luck to them, right?
This is especially true if you are trying to increase volume to gain more muscles doing the gym regularly. Exercising helps us to burn fat and excess calories.
These lost calories needed to be replaced by increasing protein intake. Drinking a smoothie is the best way to add extra calories to your diet.
Here are the following ingredients for your smoothie recipes that are essential to making calorie-rich smoothie recipes for weight gain:
Milk and yogurt are the most commonly used ingredients to make smoothies.
Opt for the full variety of these dairy products to get as many calories as possible. Milk and yogurt are known to be full of fat and protein.
For people with lactose intolerance, the use of milk and yogurt may be omitted, or alternatives that do not contain lactose are available.

In addition to milk and yogurt, bananas and avocados form the basis of most smoothies.
Banana or avocado is added to give a thick and creamy consistency. Banana is rich in potassium.
The avocado is full of unsaturated fats. Also, both banana and avocado provide fiber and natural sugars.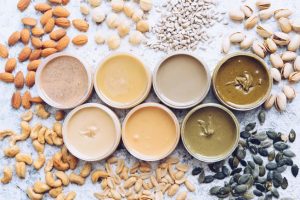 Proteins and healthy fats are found in nuts. Both walnuts and nut butter are high in calories.
Just one tablespoon of nut butter already contains around 90 to 110 calories.
Any variety or type of nuts and nut butter will do peanuts, almonds, cashews, and even pistachios.
Chia seeds, flax seeds, and hemp seeds are some of the best seed options to add to smoothies.
Seeds like walnuts are high in fat and calories. Adding seeds to a smoothie will improve texture and flavor.
However, be careful, some seeds must be ground in a food processor before mixing directly into the drink.
Here are Top 3 delicious Smoothie Recipes for Weight Gain:
Smoothies are versatile food replacements used to lose weight, establish a healthy lifestyle, or gain weight.
It is best enjoyed without additives, preservatives, and artificial colors and flavors.
All-natural ingredients can be used to ensure you're only taking vitamins and minerals.
Chocolate Peanut Butter Smoothie
The richness of chocolate and peanut butter together make this smoothie very abundant.
It is rich in fat and protein, which can help prevent hunger. The banana in this recipe can be omitted or replaced with other fruits like avocado.
Only dark chocolate should be used to keep the smoothie healthy and free from too much sugar.
Dark cocoa powder can be used in place of dark chocolate.
Ingredients:
Milk, ¼ Cup
Banana, 1 (optional)
Vanilla Yogurt, ¾ Cup
Peanut Butter, 2 Tbsp
Dark Chocolate Chips, 2-3 Tbsp
Directions: Pour milk and yogurt into a blender. Add chocolate chips, peanut butter, and banana. Blend well until smooth inconsistency.
Strawberry Avocado Smoothie
This creamy smoothie is packed with different vitamins and nutrients.
It is high in fiber and heart-healthy fats. Other berries, such as goji berries, blueberries, or raspberries, can be used in place of strawberries.
Instead of plain vanilla yogurt, you can use Greek yogurt. To add more variety to your drink, putting seeds, such as chia seeds or flax seeds, can add more flavor and texture.
Honey or maple syrup can be used as substitutes for sugar.
Ingredients:
Milk, ¼ cup
Yogurt, ¾ cup
1 banana (optional)
Frozen strawberries, 1 ½ cup
Chia seeds (optional), 1 Tbsp
Avocado, ¼
Honey or maple syrup (optional)
Directions: Pour milk and yogurt into a blender. Add the banana, avocado, and strawberries. Blend the mixture. Add the chia seeds and honey. Blend until smooth.
Nutrition Facts
Amount Per Serving (1 bowl)

% Daily Value*
Calories

450 mg

(Calories from Fat

261

)

Fat

29 g

(

Saturated Fat 25 g-

156%)
Sodium

21 mg

1%
Potassium

1068 mg

31%
Carbohydrates

50 g

(

Fiber 10 g-

42%,

Sugar 29 g-

32%)
Protein

5 g

10%
Vitamin A

75 mg

2%
Vitamin C

140.7 mg

171%
Calcium

54 mg

5%
Iron

3.2 mg

18%.
Nutty Banana Smoothie
This smoothie recipes for weight gain is rich in potassium and healthy proteins.
Walnuts can be used in place of walnut butter. Using walnuts can give smoothies a nice texture. Various varieties of walnuts can be used. Cashews, almonds, and peanuts are the usual options due to their crispness.
You can add a pinch of dark cocoa powder to give it more flavor. Adding flaxseeds are optional, but recommended, for more nutrients.
To get thinner consistency to your smoothie for weight gain, you can add the amount of milk.
Ingredients:
1 Cup whole milk
One full Banana
1 Tbsp nuts of choice
One Tbsp peanut butter (optional)
Dash of dark cocoa powder (optional)
Honey or maple syrup (optional)
Directions:   First blend milk and banana until a smooth consistency is reached. Add nuts and peanut butter. Blend well. Finally, add the dark cocoa powder and honey. Mix well until smooth.
Daily workout gives 5x times working energy.
It's a mission to make India fit by 2025, so keep supporting stayfitindia.in.
So that I will get some motivation to give you more helpful tips and ideas to remain fit with less effort.
For more info on Motivation, Health, and Fitness updates, like us on Facebook or follow us on Instagram.
Also, Subscribe to our Newsletter below. To read more latest posts directly go on the categories.
Also read: Top 8 Celebrity Fitness Trainers in India in 2020 helps you to find your perfect trainer who also helped your favorite Bollywood celebrities. 8 Amazing Benefits of Walking will help you update the new version of yourself.
Just click on the featured image below.